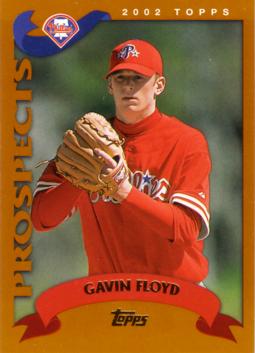 You might be wondering where the update for last night's game is. Well, it was another game televised by WCIU on one of the two busiest days of the week, so I had to settle for following the game on Gameday every other half hour. But, I did enough research to be able to put my educated two cents in. The Sox won 6-2 over the Yankees (While the Twins lost 12-9 in extra innings) to extend their lead over the division to 2.5 games.
Not surprisingly, Gavin Floyd was great. He had a rough start to the first inning, but recovered and made it 7 full innings (on a career-high 116 pitches) with just 2 runs. He can do it on the road, he can do it against the good teams, hair or no hair… He tallied his 16th win of the year, still the starter with the most wins and least losses. [I hope you enjoy the picture for today. I get endless amusement out of rookie cards for our players.]

Thankfully, Paul Konerko was back and still swinging the bat like it was on fire. He went 2 for 4 with an RBI, and gave Swisher some much-deserved (not because he has been overexerted, mind you) bench time. Swish had himself just 4 hits over the last 10 games- none in the last week. I was starting to think I imagined Ozzie's quotes from the game, but with the ever-changing online releases, it's hard to keep up. The closest I could come up with to what I originally saw was this:
Konerko's return sends slugger Nick Swisher to the bench for at least a game — he came on as a defensive replacement in the eighth and struck out looking in the ninth. Swisher is in a deep slump, hitting .109 (7-for-64) in his 20 games coming in, and Guillen said he has to go with the "hot" player. [Would the hot player be… Brian Anderson? Ouch, Swish. You know you're sucking when Ozzie would take BA over you.]
"We don't have Quincy [yeah, this has been in all the papers today. Carlos Quincy, eh? If you have an email for this Howie Rumberg person, don't hesitate to let him know he botched up the name of one of the season's superstars.] and Crede in the lineup, everybody's got to step it up a notch," Guillen said. "I think he should go back to the basics. … Hopefully that will help him."
And, speaking of Brian Anderson, Blondie went 1 for 4 with an RBI double and a walk (A walk? From Brian?). You know that's a bad inning when Anderson and Uribe walk- not to mention you've seen everyone in the lineup once.
On the subject of replacements, Uribe is the 2nd coming of J.C. (Joe Crede, that is) for the Sox. He went 3-for-3 tonight with a walk.

As for tonight's game, I originally thought Lance Broadway would get the start (his picture was on the Sox website for at least an hour, if I was to guesstimate). While he looks great on the mound, that is more attributed to the way he looks in the uniform- not the way he's throwing the ball. Don't get me wrong, I don't think he's a bad pitcher (we haven't seen enough of him to determine what he's like at the big league level), and I think his ERA doesn't tell the whole story, but I am nevertheless weary of seeing our AAA pitchers on the mound in general.
Instead, it'll be Clay Rich [Clayton Richard, as everyone else calls him] tonight. Once again, I will try to remind myself- and you folks of his first start. I remember seeing potential. Hopefully, him, his big shoulders, and his potential can keep the Sox in the game tonight with a well-located fastball. And maybe a cameo by Toby Hall- we don't want A.J. to knee him in the groin in case he does give up the ballgame early on. The match up isn't too bad, with the Yankee starting pitcher looking just as-if not less- adequate as our own minor league call ups. To put the cherry on top, the Indians are bringing Lee to the mound against the Twins.

And, speaking of A.J., after continued struggles, he has been moved down in the lineup. Unfortunately, Big Pierogi is only hitting .195 in September. Maybe that has something to do with someone asking him to throw away his at-bats in failed attempts at sacrificed bunts. (Or maybe it's because he's having a bad month).